---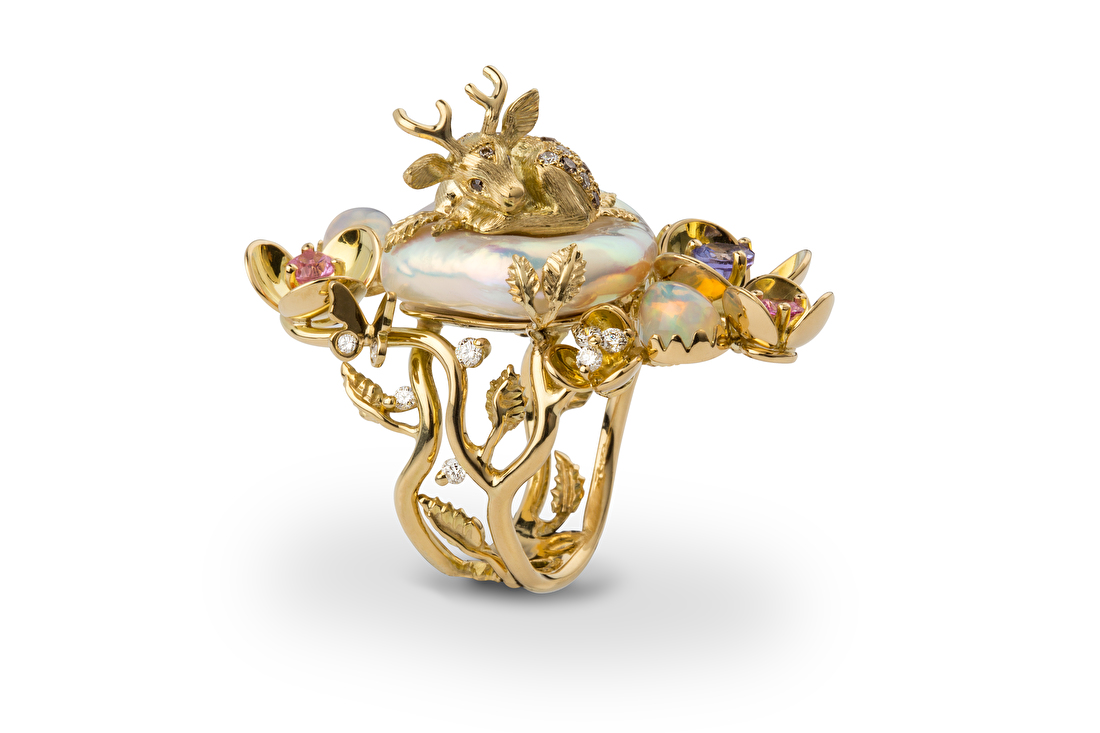 ---
"My Dear " - 2016
18 karat yellow gold, diamond Top Wesselton VSI 0,31 ct., chocolate en champagne 0,165 ct., freshwater pearl, Welo Opal, Tanzanite en Sapphire.
(sold)
---
---
The eyes of the little deer are made of chocolate brown diamonds. The back is covered with chocolate and white pavé-set diamands.
---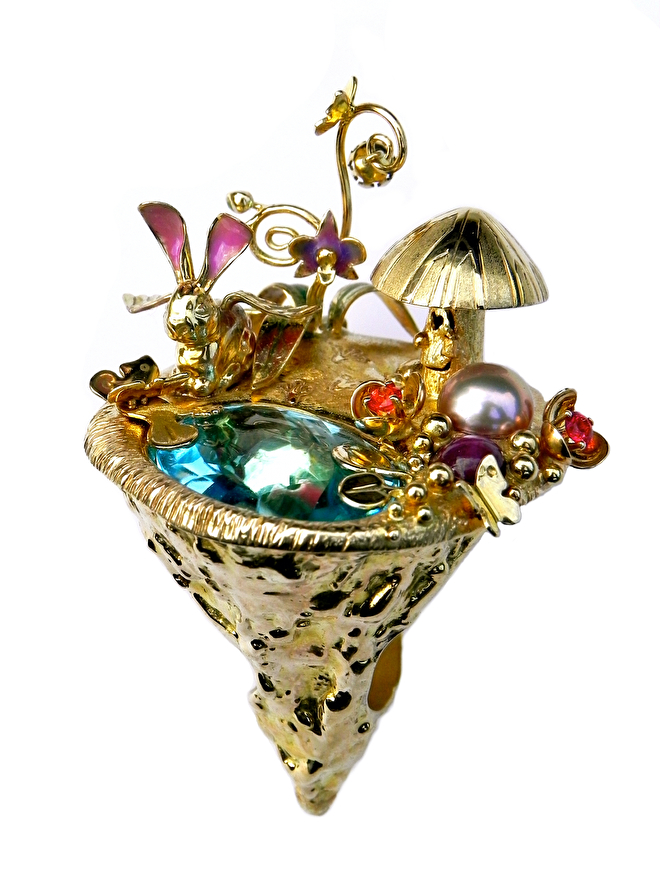 ---
Prizewinning "Come closer" - 2010
14 karat yelloy gold, Topaz, star Sapphire, orange Sapphire and freshwater pearl.
(not for sale)
---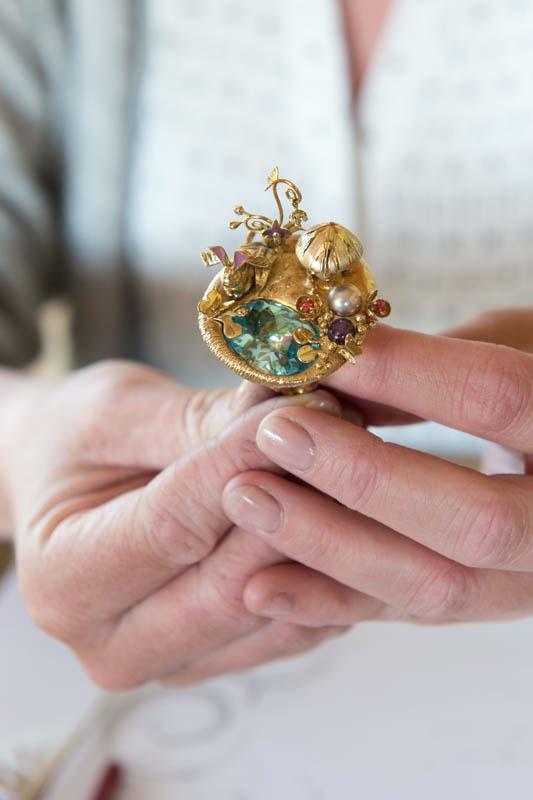 The Dutch Design Competition.
The prizewinning ring for the Dutch design competition 2010 was my own design "Come closer." The competition was organized by the Federation of Gold- and Silversmiths.
The ring shows a fairytale scene with water, plants and animals. At the bottom of the pond you can even see fish swimming. Beside the pond of blue Topaz, a rabbit with wings sits under a flower, near a Toadstool house, the door of which opens on real hinges.
A star sapphire clustered in gold, and an orange sapphire adjacent to a pink freshwater pearl bring colour to the scene.
The theme of the competition was "enchantment". The starting point for me was what enchanted me personally. This was my neighbour's beautiful garden next to my parental home. As a little girl, I played among the flowers and the buzz of the bees. I gazed into the pond, which many small animals called home. Due to my small stature, I found myself in a fascinating world, where I was mesmerized by everything that grew and lived. This made an indelible impression, which sowed the seed and shaped for my love of nature.
---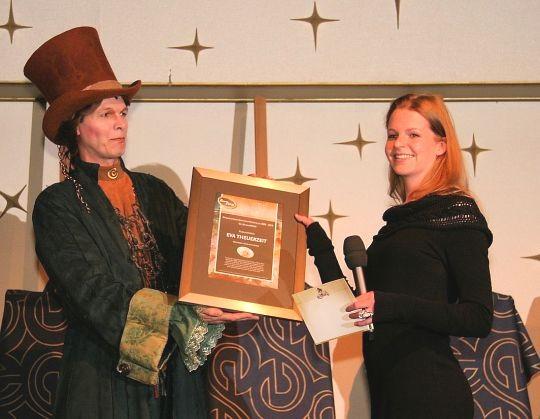 The award ceremony in the theme park the Efteling.
In addition to the first prize, I also had the honour of winning the jury and public prizes.
The jury ruled; "It is a beautiful interpretation of the theme in which many professional techniques have been demonstrated. The ring shows a depth of detail, is well finished and looks wonderful."

During the fair 'Het Juweel' at castle Zeist, visitors could vote for their favorite design. On the day, my design received the most votes. It was often mentioned that the ring depicted a real fairytale. "You are enchanted, taken in and you see more and more every time you take a look."

---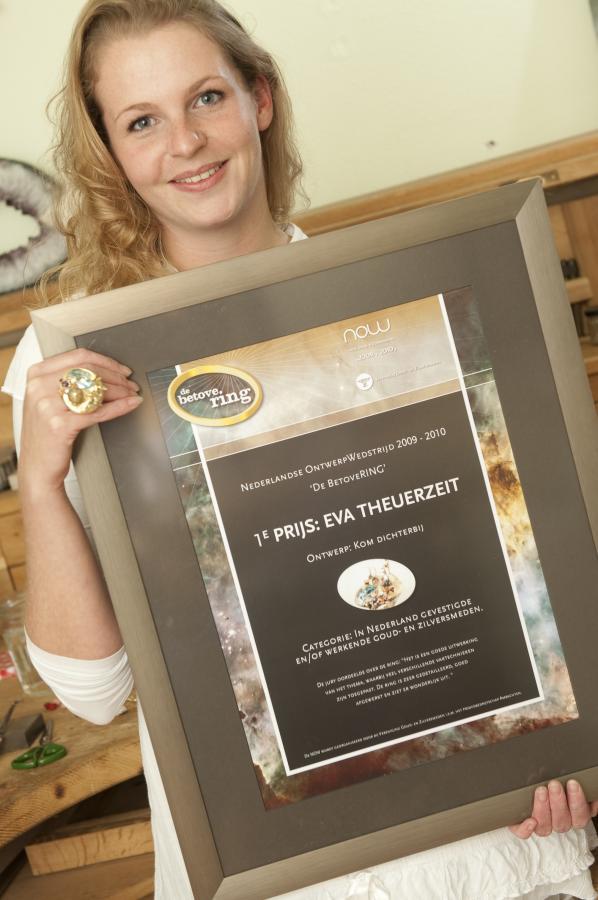 The beginning of her own jewelry collection.
The start of Eva's collection began with winning the audience and jury prizes. Sadly at this point, I had not yet developed my own collection, so, actually, the winning of this prize came a little too early for me to benefit from. The prize involved some publicity which at least gave me the confidence to branch out on my own. I built my business in addition to my work in a large repair company where I worked for almost ten years. It started with collecting the necessary tools and equipment for my own workshop. In addition, investments were made in materials and gemstones. I joined a goldsmiths Guild at the time named "Bossche Gilde van Goldsmiths ", now known as the "Dutch Guild of Goldsmiths ". This helped me to build a network of colleagues. It also increased my access to professional knowledge.

"Two people who have been particularly important to my personal development in the field are, Jewelry appraiser Adrie Hemmink, and goldsmith and spectacle maker Frans Veurink from "Vue d'Or".

"Adrie Hemmink has extensive knowledge of jewellery and large silverware. She knows a lot about the history of jewellery, about modern pieces and their makers. I like to visit fairs such as the "Tefaf in Maastricht' or exhibitions such as "Jewellery in the Hermitage" with Adrie. Her enthusiasm is infectious!"
"Frans Veurink is a renowned goldsmith and spectacles maker. He designs and creates exclusive spectacles made of 18 karat gold.
His high-quality collection is unique in Europe and I can contact Frans with my technical questions. He also helps me bring structure and order to my chaotic ideas and plans. Which is very nice!
If you would like to know more about his work, please visit Vuedor.nl"
---
"Wij in Twente Magazine- 2010"
As a result of winning the Dutch design competition, an interview was held with, and written by Feya Wouda.
Published in the magazine "Wij in Twente". The ring was among a collection published in the Tubantia newspaper, Twentse zaken Vrouwen and local magazines. My work was even shown on TV Oost.
---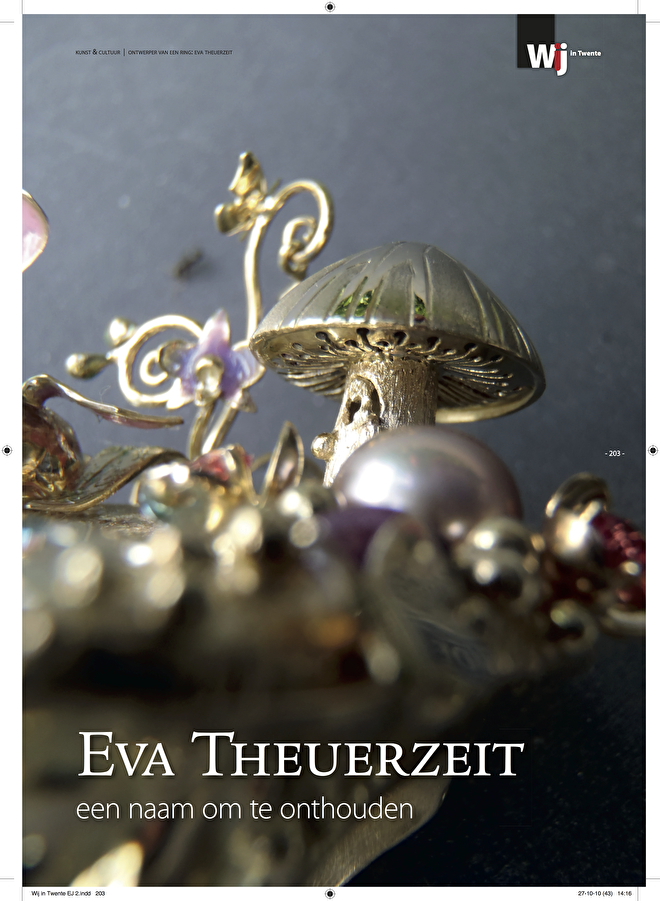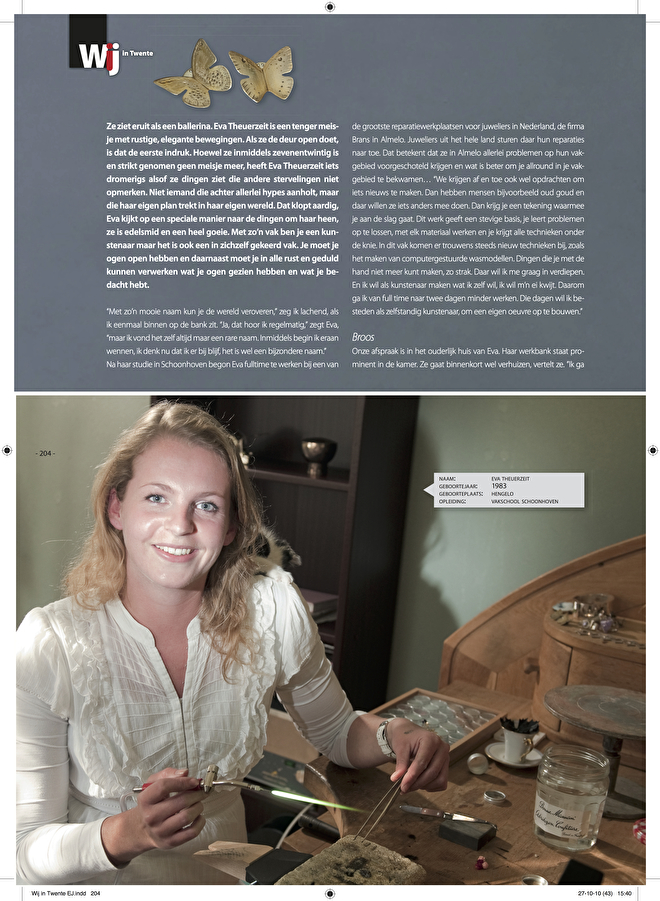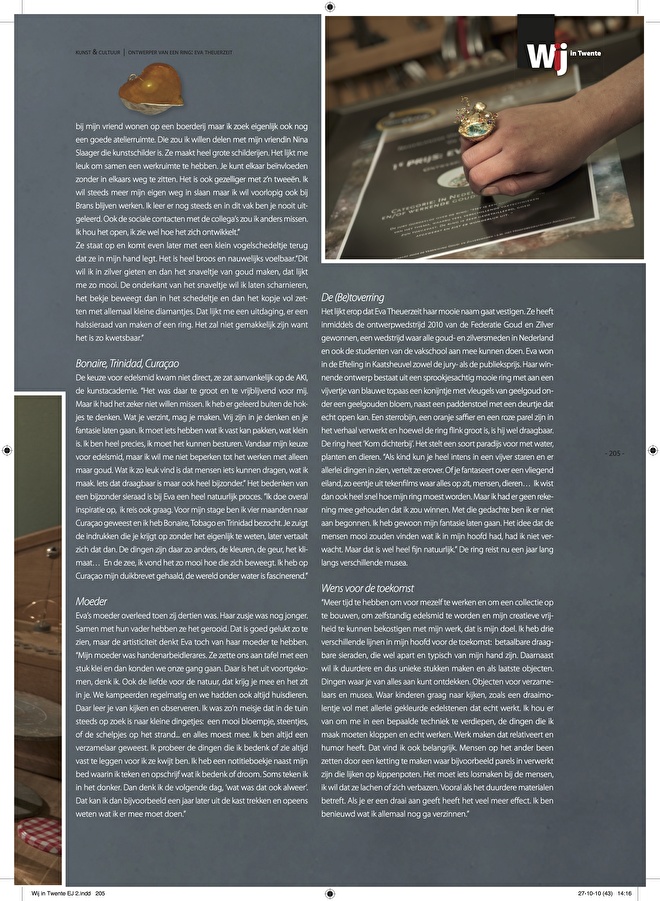 ---